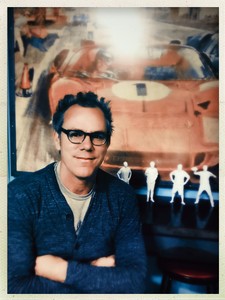 Ray 'Uncle Ray', 'Rayzo', 'DTR' Oldhafer
While not really one of the Lackey's, Ray does spend a lot of his time shaming them. Besides be a wizard of masonry, Ray is a self-proclaimed fashionista. If Superman has his red cape and large S on his chest, Ray has his signature hipster high-water pants, low top chucks, and cardigan sweater. Ray's claim to fame, besides being the worlds only contractor that works in flip-flops, is being a champion at Touch the Back (a game he made up in high school where a chosen one has to try to run from the front of the bus to the back, hence touch the back; I will let him explain the rest).

@RayOldhafer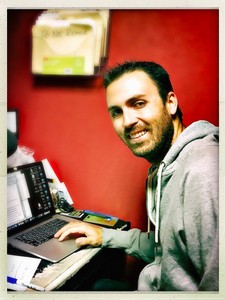 Gary 'Producer Gary' Smith
a.k.a., Half-tard, is from San Diego or something... maybe New York, or Arizona, we really can't tell. However we do know he hails from a land where they celebrate half birthdays. Gary started out shortly after the pirate ship sailed as a shy, quiet production assistant on Lynette's mommy podcast. He kept his head down and worked hard, earning his way to the top Mainsail of the Pirate Ship.His spirit animal is Eeyore from Winnie the Pooh. Gary can literally google anything in the world in under 9 seconds. He doesn't need 10. He drinks Red Bull like water yet remains as steady as the underbelly of an iceberg. In his freetime Gary rides horses and enjoys a good Robert Ludlum novel. Oh, he is also the world record holder for most Oreo's consumed in 18 seconds (5...previous record was 4).

@gpatricksmith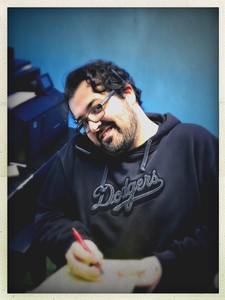 Matt 'The Porcelain Punisher' Fondiler

Matt, one of the longest tenured employees at Carolla Digital, was born in the humble lands of Van Nuys, California. From day one, he was filled with a wisdom that paralleled the great minds of Goethe, Descartes, and Lagasse. His love of fine cuisine has taken him to lands near and far, but no matter the establishment he enters, the waitstaff always treat him like a king. He has an air about him. An air of pride and invincibility. If Gary is the mainsail, Matt Fondiler is the mast of this ship; strong, sturdy, reliable, and white (like a sail). We'd all be spinning around in the middle of the freaking Indian Ocean if not for him.

@mattfondiler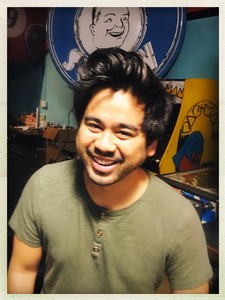 Chris 'Maxipada' Laxamana
Chris has a lot of "a's" in his last name, and was also born in Snoop Dogg's backyard... literally. He scoffed at his mother's desires for him to pursue a career in nursing and/or postal work, only to forge a path towards his ultimate destiny... but first, he bought a bus. Like Ken Kesey and the Merry Pranksters, he and his friends traversed the boundaries of this great country and blossomed into men. He then became an audio engineering prodigy and architect of this Pirate Ship. When he isn't serving up podcasts for millions of listeners he performs in a band that will be bigger than U2 one day, LAXI.

@chrislaxamana

@chrislaxamana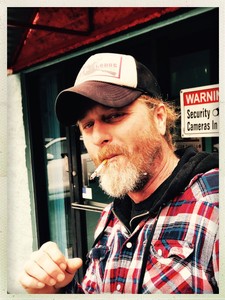 Mike 'The Voice' Dawson
Mike, while not "technically" a lackey is the longest running employee with The Adam Carolla Show podcast (although not sure if Mike Lynch, or Bald Bryan hold a longer stretch). Mike's gravelly tones have been massaging the ears of Carolla listeners for over a decade now. Mike is as versatile as they come in this business. He runs back of house for many musicians, he produces podcasts, he voices books, and is the front man in the rock band The Smoking Kills.

@DawsAngeles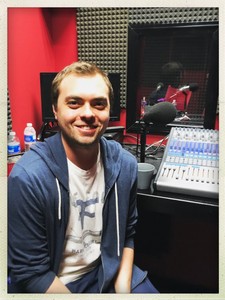 Caelen 'Brandon' Biehn
Caelen from birth was meant to lead the resistance against the insurmountable machines of Skynet. This man, with the weight of the world on his shoulders, is a stoic individual who keeps his passions close to the vest. For now, while his fate patiently waits, he's having a groovy time producing For Crying out Loud with Lynette Carolla and Stephanie Wilder-Taylor, and screening calls for Carolla Digital. But when the day comes, the day when the skies open up and rain down sentient robots with big metal arms, Caelan will put down his pipe and defeat them...all of them.
*Sorry, Caelen is socially challenged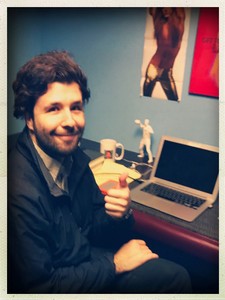 Dylan 'New Guy' Wrenn
Dylan is new. No one knows a lot about him yet, other than his love of that atrociously boring sport the Europeans call American Soccer. He is native to these desert lands, though the copious amount of hair that cloaks and envelopes his body would suggest he hails from a Tundra or cave of sorts. He loves podcasts yet only offers his on a platform that is almost unobtainable to new listeners. He is curious, and currently aids Lynette and Jay in their endeavors to launch the world's most successful alcohol line. He is perhaps evil, perhaps good. We just don't know yet.

@DylanPeteWrenn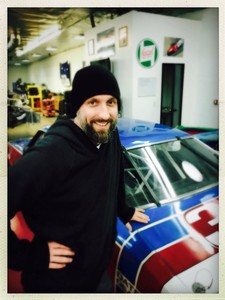 Robert 'Rob Brown' O'Connell
Rob is Adam's left-hand man (Adam is a southpaw). He oversees all house remodels, car restorations, museum build-outs, basically anything that going on outside of The Adam Carolla Show podcast, Rob is involved. He doesn't get out much, but when he does he skippers a boat out of Marina Del Rey called Lights Out. Rob loves motorcycles, boats, cars, and long walks on the beach.

@robbie1531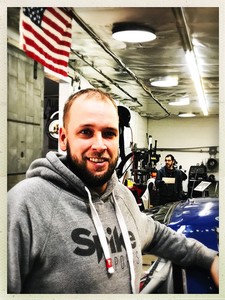 Tom 'The Wide-Legger" Pelkie
Tom is Adam's right-hand man. When not rewiring Lamborghini's, Tom helps restore all the other cars in Adam's ever-expanding collection. When most were playing with Lego's, he was taking apart carburetors and rebuilding them...blindfolded. Tom is also a world-class plumber. Folks on the east coast still talk about how well he sweats copper pipe. When Tom isn't working he is usually at home memorizing lyrics to Backstreet Boys songs.
*Waiting on Tom's Facebook information...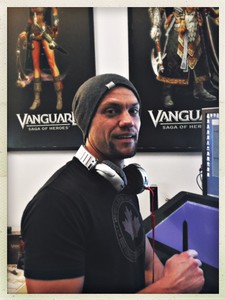 Chris 'White Kevin Hart' Atkins
Where to start with this guy...When he's not filling in as a caucasian version of the famous comedian, Kevin Hart, Chris is an artist for the gaming company Day Break. He draws anything, and everything. His current obsession is drawing hair. In his spare time Chris handles all the art for Carolla Drinks. Compared to his former employment at Groomingdales (as head nail clipper), Chris has found a real niche here in the alcohol business.
*Also socially challenged