Come one, come all! We are going to be at Hooters in Costa Mesa Thursday, April 20th. At 9:30 Lynette Carolla will be guest judge for the Hooters Bikini Pageant. We will follow that up with the following Thursday, April 27th, in Long Beach.
Mangria will be flowing, and the specialty cocktail, Girls on Trampolines, will be the drink of choice. Or if you haven't had our Endless Rant IPA, it will be on tap for the occassion as well.
If you can't make it out to either of the events, but want to enjoy along at home -
USE COUPON CODE - hooters
Save $5 on every White Peach and Pear, or Brosé with the purchase of an Original Orange from now until the end of April!
... and Get it on!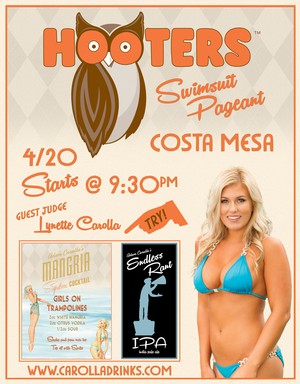 *If you guys out there have any ideas for promotions please feel free to contact us through the website!