Carolla Christmas Crate - Small (t-shirt size)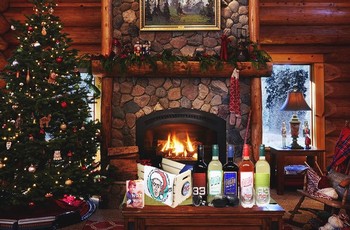 A perfect gift for the ULTIMATE Carolla fan in your life (maybe it's you...maybe it's your Grandmother). We have created the Carolla Christmas Crate. What's inside you ask? Well...ALOT.
A custom "If You're Offended by Christmas..." T-Shirt, CHECK. Custom Wine Stopper, CHECK. Custom Ice Ball maker, CHECK. A pair of Custom Stemless Wine glasses , CHECK. And if that's not enough five bottles of booze, DOUBLE CHECK!
1 bottle of Our Signature Mangria Orange
1 bottle of Mangria White Peach & Pear
1 bottle of Brose
Finally, 1 bottle each of our limited run Cabernet AND Chardonnay 33 wines made here in Paso Robles, CA.
If that's not enough a signed copy of Not Taco Bell Material
And what's a Christmas gift without a card- signed by Bald Bryan, Gina and Adam. All packed nicely in a fine Douglas Fir wooden crate.
Happy Holidays from all of us at Carolla Drinks!!

Pre-Order pricing will run out soon! Get yours now for $200! Free shipping!
NOTE: We begin shipping on November 20th

Wine Specs
Varietal
Wine-Based Cocktail