BLOG

Seattle - well it's about time! I'm going to toot Adam's horn here for a second as well you, the fine folks of Seattle….

I remember when Adam was on his KLSX morning radio show out here in LA and he talked about how great the city of Seattle is. For one thing, it was one of the highest rated markets for his morning show in the West Coast. That was exciting. For another, he said it was polled as the smartest city in the country. Hmm, I'm wondering if the latter begets the former? (Toot toot!) Adam has done many live shows in Seattle. The Moore Theatre is one of his favorite places he's played, hands down. He said he felt like a rock star when he came out on stage. Sharing video with me and the kids shot by Mike August (landscape) as he walked out to a standing ovation. I think Seattle gave a shot of vitamins Adam was missing in life. Not to get sappy but as most know Adam didn't have the best childhood and lacked self esteem. As he became successful it was the fans love and support that filled that deficiency he was missing out of life. And Seattle was there for him from the beginning.

I've never been, always wanted to go. Toyed with the idea of going with him, although I never travel with him for these events. He looks at them as work, gets in and out, back home on the first Southworst flight in the morning. I've had many discussions about visiting Seattle during a girls night, turns out I'm not the only one that's never been and daydreams of going. However, now that our little Carolla Drinks team travels the country, boots on the ground, bringing Bar Crawls to different cities, the stars have aligned!

We're all looking forward to the Seattle Bar Crawl. We've done about 6 of these now and every single one is like a love fest between us, the lackeys and the fans that come out and support. Picture everyone together on the bus, headed to a few bars throughout the night, Maxapada playing acoustic guitar on one bus…Ray arm wrestling on the other. You can't do better than that on a random Saturday night (June 24th!!) in Seattle.
Seattle Crawl is going to be extra special though. We are bringing you guys some really funny, up and coming comedian and musicians to cap off the night of mischeif!

Look out Seattle, the Carolla crew is coming to give you a big old hug and a sloppy Phil lick to thank you for being there from the beginning. See you in June….XO

Since I've been traveling more and more, growing the Carolla Drinks brand, it's been a bit challenging on the Carolla household. Adam (with the help of Olga of course) has to hold the fort down, taking kids to football, basketball, halloween fundraisers, not to mention Phil having a case of the stomach flu all hours of the night. Which by the way, as my co-host on For Crying Out Loud Stefanie says, "that's a Tuesday for us moms." However, I was just looking at the great pictures from the Portland Bar Crawl on our Carolla Drinks Facebook page and the word loyal comes to mind.
It started a few nights earlier. Not sure if you've heard but Chris Laxamana and I are big TV stars. Appearing not once but TWICE on the ABC affiliate KATU's AM Northwest Live morning show and later in the day on Afternoon Live. Even though I was nervous it was great to be able to tell my side of the story on what life is like living with the Aceman. I have to give my man props and thank him for all the years of yapping on how improv is done. All the talk of the art of "yes and…" has paid off. Next it was Chris' turn. It gave me chills watching one of our longest-tenure lackey Chris "Maxapada" up on the TV monitor, in front of a studio audience, sing and play acoustic. The whole TV experience for us was not only exciting but satisfying. After a day of TV appearances we blew off steam and went for some sushi and burlesque. Oh don't judge, apparently Portland is the strip club capital of America. Who were we to come to the fine city and not check out some of the happiest places on earth for lackeys? We may be TV stars but we're lackey's first.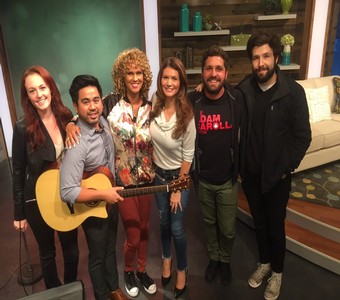 The next night was the bar crawl. Not to sound sappy or corny but it never gets old meeting and spending an evening with the fans of The Adam Carolla Show. This time we had name tags which made it easier to remember everyone like Tina, both Christina's, Cassi and Cody, Matt and Nicole, Eric and his lady friend who was so sweet but name escapes me, Justin, the other Matt, Tommy who looks like Saul Goodman, and the adorable couple Lindsey and her soon to be fiancé Benja-dick (Real name is Benjamin but Ray wrote out his name tag). Some of the Carolla family came out to support as well. Adam's step-sister Hilary, her husband Micky and Adam's niece Carly. (Not blood related though. Yea but still!) We started at the White Owl Social club where we kicked off the evening with a toast of the Betterman cocktail. Then it was off to Loyal Legion where I ordered up freshly baked corn dogs for everyone. Can't have people drinking all night and not get them something to soak up the alcohol. We ended the night at the Spirit of 77 with the Mahalo cocktail. By the way, I made this cocktail on live TV the day before. Did I mention we were on TV?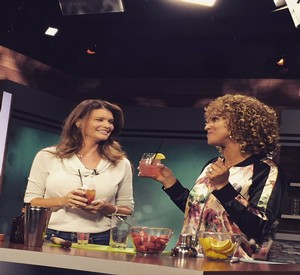 This brings me back to the word loyal. The fine people of Portland have been so LOYAL to us through the years, many not only going back to Adam's morning radio show but dating back to Loveline. Sitting on the bus, facing backwards, watching everyone sing along with Chris as he played Santoria by Sublime on guitar, meeting all the fans that listen to the shows and have supported not just Adam but all that encompass the pirate ship made all the planning, not just for the event but back home with the Carolla household worth it.
Stay tuned to find out all details for our last Bar Crawl of 2016!!
Cheers,
Lynette XO
P.S. A big shout out to our photographer of the night, Samuel Vert! Check out the great moments of the evening he captured for us on our CarollaDrinks Facebook page.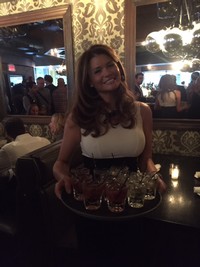 New York Serenade…
One of my favorite songs of all time and rarely played in concert. So when Springsteen opened his show Thursday night with THAT song, in an open stadium with light rain falling, beautifully ominous with full string section, I broke down and cried. Happy tears though coming off a whirlwind of a week in my favorite city. Not a bad way to celebrate my birthday, not that there's anything wrong with spending it with Adam, the kids and that beast Phil.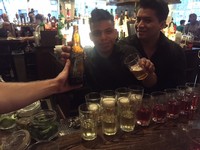 Wednesday night was the big unveiling of our new IPA Adam Carolla's Endless Rant for our friends in New York City. It was a great turnout as the fans rolled in at Park Ave Tavern for the tasting. Hey, could you have bought it online at CarollaDrinks.com by now to try it yourself? Yes. Did I want an excuse to come to your fine city to meet the fans and serve it up to you personally AND see Bruce Springsteen and the E Street Band live at MetLife Stadium? Yes and yes. Most of them have not tried Endless Rant yet so it was fun to be able to hand them their first cold glass which they all seem to enjoy and go for seconds. And of course the Mangria was flowing as well. The Original Orange, White and Brose.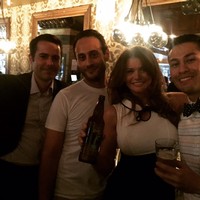 The bar was packed and I'm happy to say a healthy portion of the crowd was there for us. I was blown away and touched to see so many familiar, as well as, new faces this year. Maybe they came for the free booze, or just wanted to show their support or maybe they wanted to meet the fabulous Mrs. Drew Pinsky? Either way, I was grateful we had such a great turnout. One thing I'd like to mention is how delighted I get when I see the same fans that showed up at previous events, greet each other like old friends. Bromances and even real romances bloom at our NYC tastings. I guess now I HAVE to make it a twice a year event right? (Sorry Aceman) In fact, at our first tasting a couple years ago, two fans who just met went on to date. When the gentleman showed up this year I asked him where his beautiful date was that he met the first time around. They no longer are dating but stayed friends. I love that.
As the night was winding down, my pal Suzanne, Mrs. Pinsky and a handful of us all caravanned to a place across town for an impromptu dinner. Thankfully, Suzanne and I paced ourselves so we were in good condition for Springsteen on Thursday!
Once again, I can't thank everyone enough for showing up. We couldn't do it if it wasn't for you guys. Adam and I thank you for all the love and support for our family and our brand. We hope to continue to come up with more ways for you to catch a buzz.
Love, Lynette XO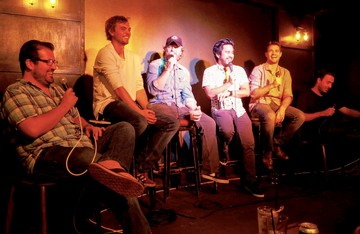 In my humble opinion, the inaugural Bobo Boys meet up was a rousing success, even though to start the night I brought some undue stress upon myself. I arrived at Butterscotch (formerly Amalfi) restaurant in Hollywood at 6:35, 25 minutes before what I thought was the start of the show. I expected to have to push my way through a capacity crowd of adoring and barking fans, but it was actually quite the opposite. It was a nearly empty restaurant with Caelan sitting at the bar by his lonesome sipping a drink. He was unphased as always, which allowed me to relax, but I once again started to get tense around 7:05 when not only were there no crowd members there, but Caelan and I were still the only two Bobo Boys on site.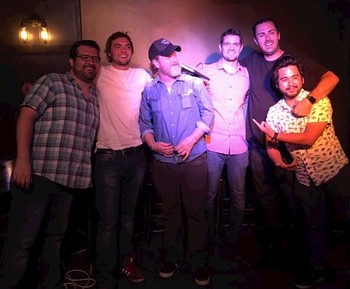 It was at that moment when I looked at Jay Miller (who really is to thank for putting the night together and did an amazing job of coordinating), and just kind of said "wtf is going on, where is everbody?" He was like, "it's cool we still have 55 minutes." In classic ACS fashion, I mixed up "doors open" with "show starts". Sure enough people started to trickle in, and we ended up with the perfect sized crowd for the intimate and newly remodeled upstairs of Butterscotch, "Buttered Up." We had a great time before the show mingling with everybody came out, and I even had a passionate debate with a Vikings fan (we ended up finding some common ground talking about German wide receiving sensation Moritz Boehringer.)

The show went smooth, everybody had some zingers, and I'd like to think we all learned something as well. I really hope that's the first of many shows for the Bobo Boys. We had a great time mingling with everyone who came out. It only gets better.

P.S. Don't forget to get to vote for my boys at Johnson Landscaping in the annual "Explore La Crosse, WI Best Of" List for the extremely specific category of "Best Lawncare, Gardening or Landscaping Business". It's category #159. Let's flood that voting box! www.explorelacrosse.com/bestof

-The Lackey Formerly Known as Intern Nick

So, I've gotten the debrief! Turns out, when you send a bunch of 20 something boys to Las Vegas… they have a good time. Who knew, right? Luckily, we've trained them well, and they handled the weekend's events like champions. And not chimpanzees which they can often confuse the two. However, they made me very proud!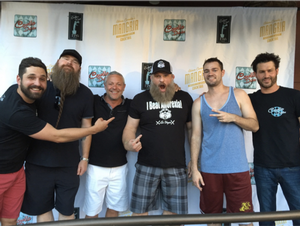 They arrived on Thursday evening and immediately lost $25 dollars on roulette…all of their WAM went up in smoke in matter of minutes. Amateurs.
After, the gents proceeded to make friends at the black jack table, the place they called home for about four hours. They made friends from freshly brexited jolly ole' England, who were lovely, but no where near as kind as the chain smoking Laotian man who said little and won a lot. Really the only thing that came out of his mouth were the thin exhales of Newports and most likely mysoginistic sayings, shouted in a foreign language at his wife, who came by the table every half hour or so for another hundred. What a life. The guys eventually slept and ate chicken tenders, thousands of them. My ten year olds have a more sophisticated pallet.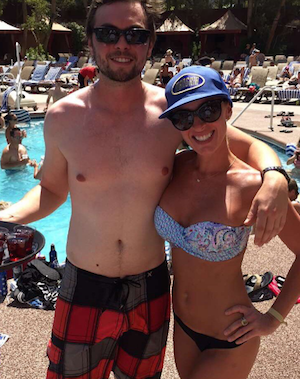 The following day, a one Raymond Oldhafer arrived, demanding margaritas be brought to him by new guy Dylan as the check-in line was quote "much too long." Everyone at the pool was happy, sipping and sampling Mangria and Endless Rant. The only hiccup… Caelen, the sample boy, unfortunately had to remove his shirt, causing many innocent patrons to be blinded and in need of immediate medical attention. Aside from that everything went great!
Highlight of the weekend was when The Real Nick Davis (aka Intern formally known as #InternNick) sat down with UFC Heavyweight Roy "Big Country" Nelson for an incredible MMA Sesh podcast. Along with Jay and his silver fox of a father-in-law, Tom Hafers, the interview was going great, then Oldhafer came on stage and from my understanding proceeded to call Big Country "Duck Dynasty". Of course he did. The boys were worried for Ray's face, but Roy loved the prodding and practiced incredible self control, hugging Ray at the end with a good amount of strength. He should have challenged Ray to an arm wrestle. Or body slam. Or choked him till he tapped out. Or an arm bar around the...I'm just throwing terms out now.
After the podcast, the guys took the fans around the grounds of Treasure Island. First stop, the legendary Señor Frogs, where revelry was shared amongst all… also chips and guac. They then went to Gilly's were I'm told a very sensual balding older woman was coaxing the lackey's onto the mechanical bull. Producer Gary hung on for the evening's record… 54 minutes. People were getting bored by the end. Then Ray challenged the bull to an arm wrestle.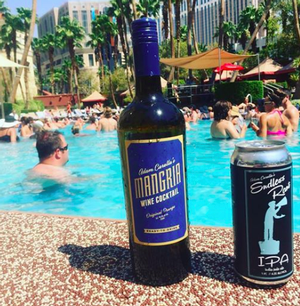 All in all it was a great weekend. I'm sorry I missed it but don't worry Vegas, we'll be back.
- Lynette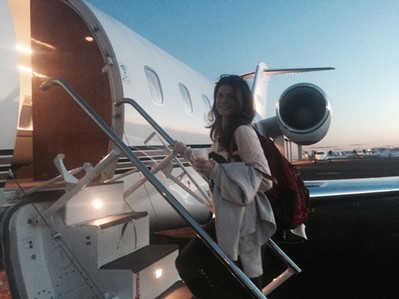 Oh Hi Denver! I'm starting to get excited for our Denver Bar Crawl. The boys and I are packing up and coming to your town for one night. Why? Well, why not? I hear Denver is beautiful and you guys are up for anything right?
Come on down and hang out with Ray (I'm sorry but it's his turn for the #MangriaBarCrawl), Chris Laxamana-Pada and his band. Haven't seen them yet live? You're in for a treat, they are adorable and they play a rocking cover of Santeria by Sublime. Plus the rest of the Carolla Lackeys (you know who you are…not you Denver).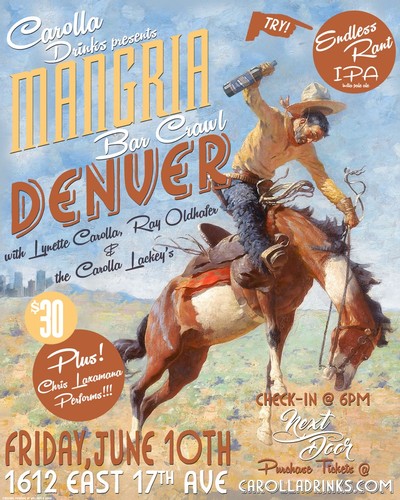 Come raise a glass with us and I promise you'll have a great time. Go to Mangriabarcrawl.com for tix.
Apologies in advance if anyone takes their shirt off and swings it above their head (Intern Nick).
Date: Friday June 10th
Time: 6:00 PM
Starting Location: Next Door
Denver

Address: 1612 E 17th Ave, Denver

Duration: 3 Hours

Tickets include; A Mangria toast beverage, transportation throughout the event, and drink & food specials.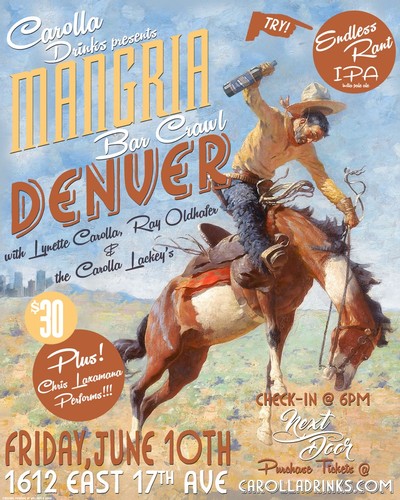 Mangria Bar Crawl Friday, June 10th
Denver, CO
3 Bars, 1 Epic night!!!

Hosted by Lynette Carolla, Ray Oldhafer and The Carolla Lackey's with a live performance by Chris Laxamama. Come throw back amazing Mangria Signature Cocktails with some of the Carolla gang.
Starting Location at 6:00: Next Door Lounge 1612 E 17th Ave, Denver, CO 80218

Duration: 3 Hours

Tickets include; A Mangria toast beverage, transportation throughout the event, and drink & food specials. $30 per person.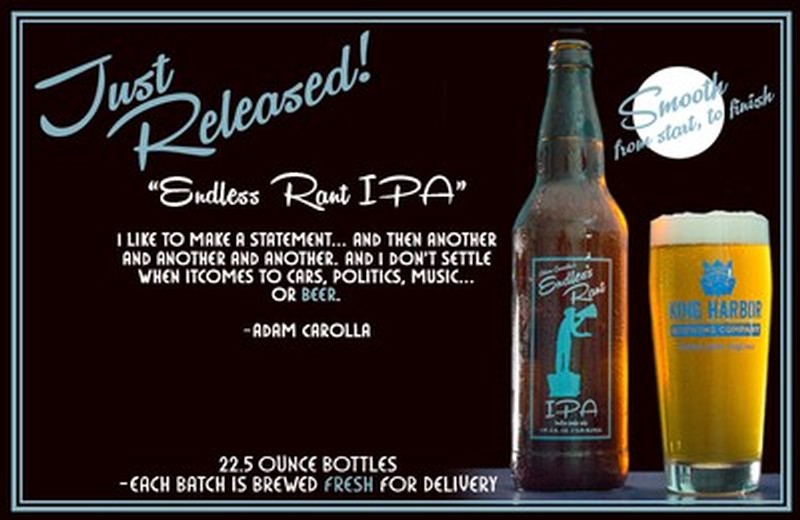 Let me be the first (or at least let me pretend to be the first) to introduce and welcome the newest member of the Carolla Drinks family, Endless Rant IPA!
The first thing everyone seems to ask about the IPA is, "Where/how did you guys come up with that name?" I tell everyone the same thing, "Non-Stop Complainer IPA" was already taken. Ha, just kidding. In all honesty we wanted something that got down to the essence of Adam and his unique outlook on life.
Adam, as we all know, is a world class Ranter, perhaps one of the best ever. His diatribes are the reason we have come to know and love Adam Carolla. We added the "Endless" monicker to pay homage to the fact that Adam always gets the feeling that no one is ever listening to what he is saying. Well, that's all about to change (probably not, but we can hope)! Adam and Lynette are enjoying the new brew and can't wait to share it with you.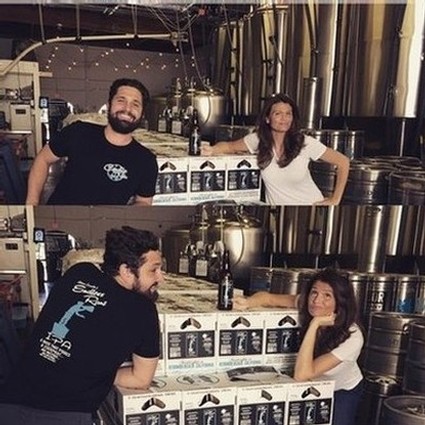 "Back in December of last year our business partner Jay brought up the idea of working with King Harbor in creating an IPA for Carolla Drinks. Here we are four months later. It's exactly what Adam and I both like in an IPA. I'm a beer gal and am always up for trying different craft beers which is why I'm especially excited for the ladies. Endless Rant is light, with hints of fruit and goes down smooth. Just in time for those days by the pool, beach, tail gate parties, BBQ's and those hot summer nights. Enjoy!"
- Lynette Carolla
Endless Rant IPA is really damn good. I always get the feeling that being overly excited about your own product makes you sound like a cheese ball, but I am willing to take that risk. It has a balance of a classic West Coast IPA citrus and pine character and the new school fruit profile hops supported by a solid malt backbone and a clean bitter finish. Not to mention the 6.2% alc/vol allows you to enjoy a few. I am semi-new to the IPA game, but I have some knowledge of the category. This goes down easy, has a great aroma and flavor, and the bitterness is surprisingly smooth.
It's funny to think that the man that made "Ziggy Socky" a household name to all of us nearly 20 years ago can finally raise a glass of his own brew...
Give it a try for yourselves and see if I am overselling or if I was exactly right on all accounts.
Cheers!
Jay Miller

OK OK - so it's not a coincidence that Springsteen is playing March 10th in Phoenix, AZ. the night before our wildly popular #MangriaBarCrawl rolls into town. Here's the deal, we've been wanting to come to Phoenix for a while now. Springsteen has been wanting to play Phoenix for a while now. So I decided to synch us up. Just don't go telling Ace yet, I have yet to break the news. As long as Olga is in the loop I should be good to go.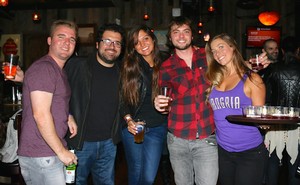 We are super excited for this crawl. Why? Because for one thing we love the people of Arizona. And for another, if God forbid someone comes down with the #SwineFlu no worries, Dr. Bruce aka Dr. Spaz will be present. Well, physically present, not sure about the mental part. If you see a trail of papers including Wall St. Journal, NY Times and various car and guitar magazines, you'll know Bruce is close by. Just picture that kid in the Peanuts cartoon that has the dust that follows him everywhere. That's kind of what its like to hang out with Dr. Bruce. He's a brilliant doctor so don't let the bad-frames-no-gel-in-the-hair fool you. Seriously, he works in the ER he can't be THAT bad.
If Dr. Bruce isn't motivation enough for you, how about a fella with the nickname Deaf Frat Guy? That's right DFG aka Maverick will make the journey from his dorm at USC straight to our Bar Crawl party in Phoenix . Basically leaving one party to join another….hopefully he won't be too hung over and he'll keep the potato gun home.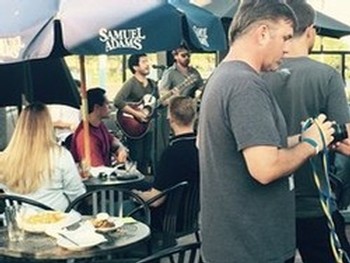 Of course the various Carolla staff (Lackeys) including Chris Laxamana and his band Laxi to kick off the night. If you haven't seen them you're JV bro, they are really, really good.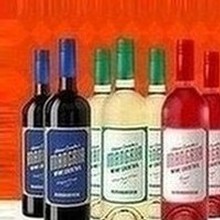 We'll kick off the night with a salute to you guys and gals for coming out with a free shot and the rest will be as they say, "ALL BALLS." If you haven't checked out Mangria yet, this is your chance to enjoy all three flavors! Want some before the Bar Crawl? ORDER HERE.
Get your tickets HERE, they sell out fast.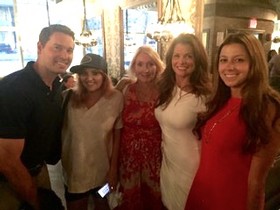 Hell yea….(that's DFG references, I don't really talk like that)
Lynette XO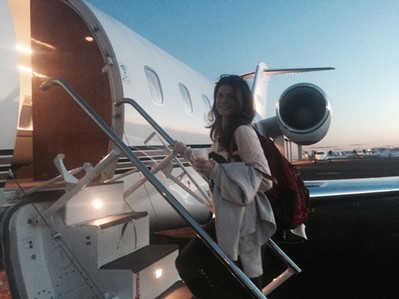 I would like to send out a big heartfelt thank you to all who came out to the Mangria tasting at Park Avenue Tavern New York City on January 26th.
I apologize for sending this out late but as soon as I returned from the trip I was hit HARD by the flu. The sickest I've ever been as an adult. The Tavern was packed and Mangria was flowing. Because of the snowstorm I was a little worried I wouldn't be able to get to the city or the product wouldn't make it either. Well once again, I ended up schlepping a case from LA to NYC. As I packed for the trip I asked Adam if he thought it would be ok if I packed a suitcase on wheels with bottles and cushioned it with t-shirts, hats, give-aways. Easy to carry for me right? Then Adam suggested I only bring half a case, a mix of red, white and Brose. Said in nasally drone, "ah you don't need a whole case, half a case should do it." So I listened to him and thus we were out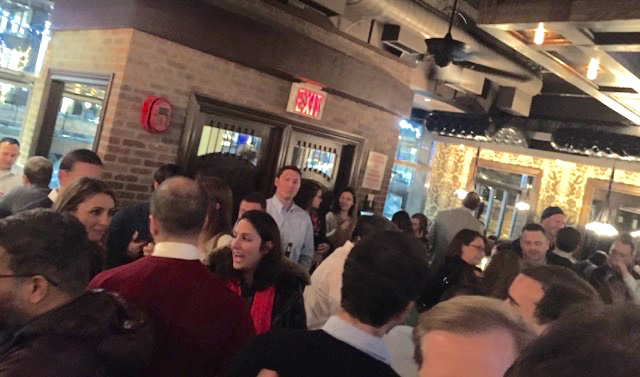 of product in a matter of a little over an hour! I guess he thought it wouldn't be a big turn out since HE wasn't there. Well Ace, you can't be right about everything all of the time.
The always fun and beautiful Mrs Susan Pinsky joined me for the night, mingling and hanging with all our pals that came out to sample Mangria cocktails. I was happy she was came out, it's tough being the only Carolla Lackey at these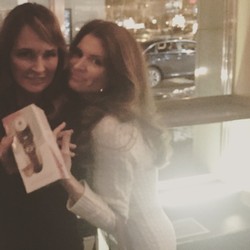 events. There were many people I saw and wanted to say hello to and give a big thanks for coming but couldn't make my way to everyone. I don't think I made it half way around the room. Lots of familiar faces, people who were nice enough to come out in August last time I was there, along with new people. Everyone was super nice, friendly and welcoming. People were enjoying the free Mangria while it lasted (Brose was a hit).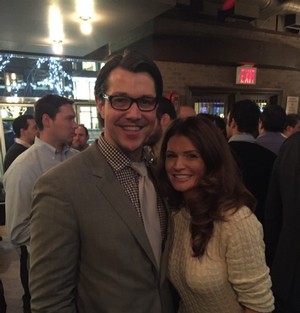 It was a fun night as always. A big thank you for our friends at Park Avenue Tavern in New York City for hosting the Mangria party. Look out NYC, I think a bar crawl is in your future. Don't worry, Adam won't have a say in how much product we bring for that trip. I'll leave that up to the Carolla Lackeys. You're in good hands NYC!