April 29, 2016 | "Endless Rant" IPA | Jay Miller
"Endless Rant" IPA!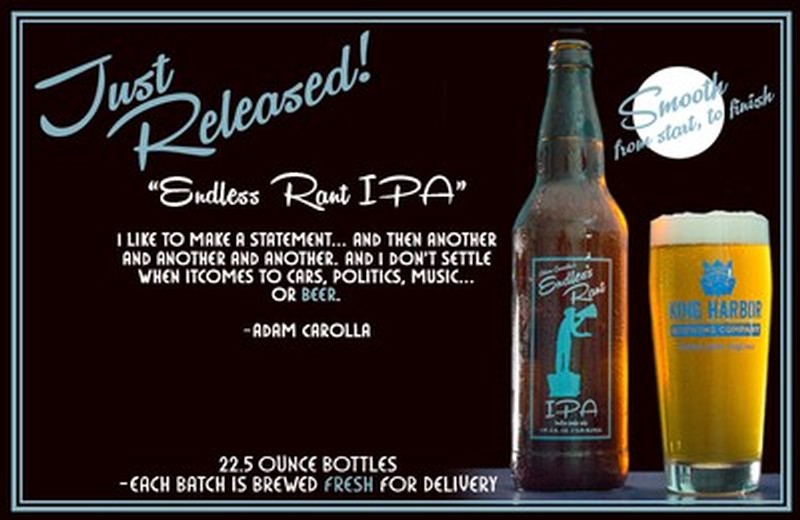 Let me be the first (or at least let me pretend to be the first) to introduce and welcome the newest member of the Carolla Drinks family, Endless Rant IPA!
The first thing everyone seems to ask about the IPA is, "Where/how did you guys come up with that name?" I tell everyone the same thing, "Non-Stop Complainer IPA" was already taken. Ha, just kidding. In all honesty we wanted something that got down to the essence of Adam and his unique outlook on life.
Adam, as we all know, is a world class Ranter, perhaps one of the best ever. His diatribes are the reason we have come to know and love Adam Carolla. We added the "Endless" monicker to pay homage to the fact that Adam always gets the feeling that no one is ever listening to what he is saying. Well, that's all about to change (probably not, but we can hope)! Adam and Lynette are enjoying the new brew and can't wait to share it with you.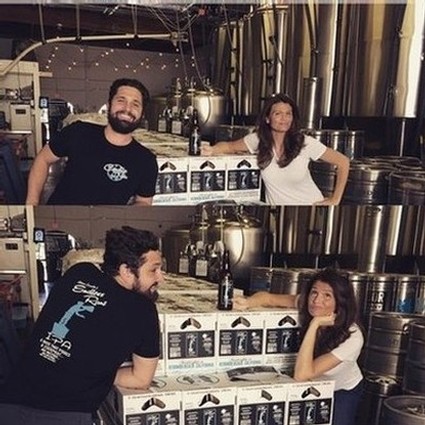 "Back in December of last year our business partner Jay brought up the idea of working with King Harbor in creating an IPA for Carolla Drinks. Here we are four months later. It's exactly what Adam and I both like in an IPA. I'm a beer gal and am always up for trying different craft beers which is why I'm especially excited for the ladies. Endless Rant is light, with hints of fruit and goes down smooth. Just in time for those days by the pool, beach, tail gate parties, BBQ's and those hot summer nights. Enjoy!"
- Lynette Carolla
Endless Rant IPA is really damn good. I always get the feeling that being overly excited about your own product makes you sound like a cheese ball, but I am willing to take that risk. It has a balance of a classic West Coast IPA citrus and pine character and the new school fruit profile hops supported by a solid malt backbone and a clean bitter finish. Not to mention the 6.2% alc/vol allows you to enjoy a few. I am semi-new to the IPA game, but I have some knowledge of the category. This goes down easy, has a great aroma and flavor, and the bitterness is surprisingly smooth.
It's funny to think that the man that made "Ziggy Socky" a household name to all of us nearly 20 years ago can finally raise a glass of his own brew...
Give it a try for yourselves and see if I am overselling or if I was exactly right on all accounts.
Cheers!
Jay Miller
Comments
Commenting has been turned off.