October 20, 2015 | Jay Miller
GET TICKETS TO MANGRIA PONG IN HOLLYWOOD!
WHO plays Mangria Pong? For starters, if you have played Beer Pong, good chance you will have a leg up in Mangria Pong. On November 6th at Happy Endings Bar 7038 Sunset Boulevard Hollywood, the question will be "Who doesn't play Mangria Pong?" Join The Adam Carolla Show lackeys and other friends of the show at Happy Endings in Hollywood for our First Annual Mangria Pong Tournament. The event starts at 7:00. Not a Pong Player? We will let you in anyway! Come for the pong, the fun or both!
WHAT is Mangria Pong? It's the brand new game that's sweeping the nation...well, sort of. Mangria Pong is exactly like your traditional game of Beer Pong, only caveat is we use one of our Signature Cocktails made with Mangria. We had a couple of scrimmages using only Mangria and quickly found out that for longevity's sake, a Mangria cocktail made more sense...at least that's what I remember.
WHY play Mangria Pong? For the same reason you sit at your desk and toss crumpled up paper into your trash bin and throw your hands up wildly into the air when it makes it...because we all like throwing things and cheering! Or, because it's going to be a fun filled evening of competition, laughs, and prizes!
HOW to sign up to play? SIGN UP HERE or visit the Events page on Carolladrinks.com and click on the Mangria Pong ad in the calendar. Cost to sign up is $10 + tax. Included in the cost is your first Mangria Cocktail pitcher.
There is going to be a lot of tough competition (my team primarily).
Cheers!
Jay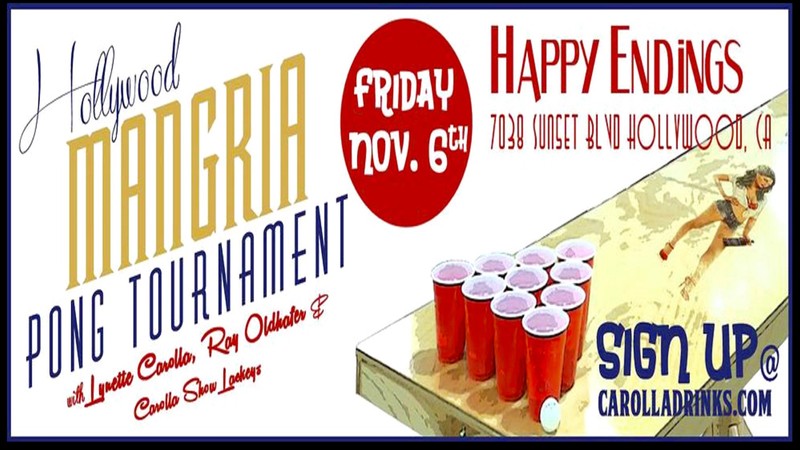 Comments
Commenting has been turned off.