August 6, 2015 | Lynette Carolla
Lynette Carolla teams up with the Mangria crew for a VEGAS ROAD TRIP
Mandate: Two day extravaganza at the Hard Rock Hotel and Casino
Adam, Bald Bryan and Gina performed 2 nights in July so we put on our new Mangria trucker thinking caps and started planning the big July weekend. Myself along with about 7 guys and one hot blond gathered at the Hard Rock to throw the best pool party ever. Now for those that don't know, Adam's old assistant Jay who is like my son that left for college is now our sales manager for Mangria. With his years of working at a bar in Manhattan Beach coupled with his law school degree, he and I have partnered up to start bringing more and more of these live Mangria events to the public and it's been a blast working with him. It started off on the Thursday night before the big weekend. Jay and I with five other Carolla Digital staff loaded up a couple trucks with banners, t-shirts, hats and more.
We yapped the whole way down and even hit a liquor store on the way out of town and low and behold there it was in the cooler section. Mangria. The guy behind the counter said lots of people come in asking for it and that it's been a big seller.
For two days, July 10th and 11th, Mangria had a strong presence at Rehab, which is the Hard Rock's name for their pool. Our cabana was front and center.
Day 1- Friday we set up our banners including an approximate 5 foot wide by 6 foot tall "step and repeat" as they call it in the business of show. People LOVE having their picture taken in front of a step and repeat, especially drunk people. Our sales girl Jocelyn, who did a fantabulous job, wrangled some of the men as well as the ladies in front of the step and repeat (see the "Don't Get Left Behind" picture in my Instagram feed). All gathering to take pictures and try our Red, White and Brose. New and old fans of Mangria came by to try one of Hard Rock's Mangria speciality cocktails. And as Adam would say, "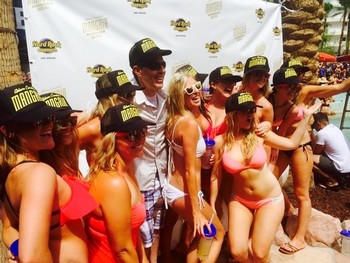 Can I just say this…" Adam's fans have such great spirit, even when they're buzzing hard on Mangria. The Adam Carolla audience has always been so supportive and I feel the love when we do these live events.​
It makes all the hard work worth it. At the end of the day we packed it up and got ready for the two shows at Club Vinyl that night. Which by the way, since I was feeling pretty good about myself with the first day behind me, I proceeded to video tape behind the scenes at Club Vinyl pre-showtime. Hanging out listening to Van Halen's Fair Warning, playing air drums and watching Dawson get ready for that nights show. Insert drop: DUDE. Check out my Instagram feed for my shameless videos.
Day 2 -Saturday was an even bigger turn out. Speaking of turn out, it turned out The Hard Rock hosted a bikini contest on that same Saturday. Imagine that. I felt so sorry for our guys, having to sit there all day watching these flawless babes walking by in their bikinis. And oh poor Aceman! He was invaded by beautiful women in our cabana. You should have seen Mike August, his head was on a swivel. I was proud of my husband I have to say. Usually that's not his scene, loud techno music, drunken people, hot sun. But are you sitting down? He did NOT complain once. Honestly. He was a trooper and actually enjoyed himself. We had a visit from local radio station KOMP-FM's Brittany Cason, she was a doll and the lead singer of Third Eye Blind…what's his name. You know the guy that cheated on Charlize Theron, yeah him.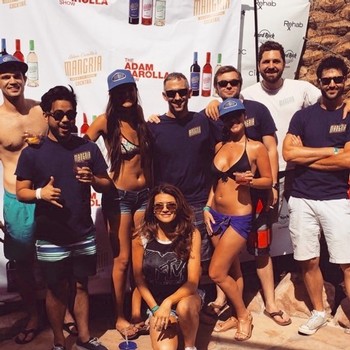 We gave away tons of cool swag, hats, tee shirts. We had pitchers of Mangria cocktails flowing, music pumping and lots of bodies. The weekend was a success and I have to THANK our tireless, hardworking crew. Jay, Patrick, Rob, Jocelyn, Producer Gary, Laxamana, Caelan and his stoner pal Brandon, Intern Nick, previous Intern Lauren and white Kevin Hart. You guys are the salt of the earth and thanks for a kick ass weekend. It reminded me of my early 20's, young, barely dressed men and women "getting wasted in the heat." (That's a Springsteen lyric by the way.) A nod to my Springsteen pal Steven at the Hard Rock who took care of all our needs, sending him a big Thank You!! And to Ron our Main Man poolside! (See selfie with bearded, scary looking tattooed man who is the nicest, kindest gentleman) Thanks for taking care of all of us rookies from Mangria!! You guys truly ROCK! See you one last time before the pool closes for the summer.
Comments