May 17, 2016 | Jay Miller
Mangria Bar Crawl DENVER STYLE!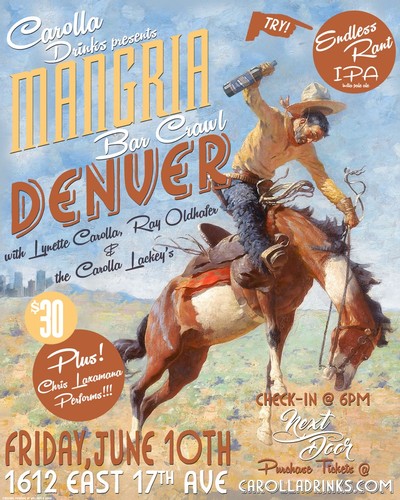 Mangria Bar Crawl Friday, June 10th
Denver, CO
3 Bars, 1 Epic night!!!

Hosted by Lynette Carolla, Ray Oldhafer and The Carolla Lackey's with a live performance by Chris Laxamama. Come throw back amazing Mangria Signature Cocktails with some of the Carolla gang.
Starting Location at 6:00: Next Door Lounge 1612 E 17th Ave, Denver, CO 80218

Duration: 3 Hours

Tickets include; A Mangria toast beverage, transportation throughout the event, and drink & food specials. $30 per person.
Comments
Commenting has been turned off.