September 3, 2016 | Lynette Carolla
New York Serenade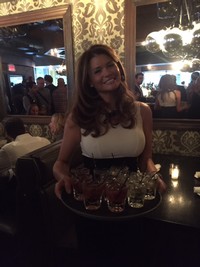 New York Serenade…
One of my favorite songs of all time and rarely played in concert. So when Springsteen opened his show Thursday night with THAT song, in an open stadium with light rain falling, beautifully ominous with full string section, I broke down and cried. Happy tears though coming off a whirlwind of a week in my favorite city. Not a bad way to celebrate my birthday, not that there's anything wrong with spending it with Adam, the kids and that beast Phil.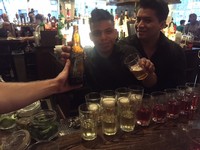 Wednesday night was the big unveiling of our new IPA Adam Carolla's Endless Rant for our friends in New York City. It was a great turnout as the fans rolled in at Park Ave Tavern for the tasting. Hey, could you have bought it online at CarollaDrinks.com by now to try it yourself? Yes. Did I want an excuse to come to your fine city to meet the fans and serve it up to you personally AND see Bruce Springsteen and the E Street Band live at MetLife Stadium? Yes and yes. Most of them have not tried Endless Rant yet so it was fun to be able to hand them their first cold glass which they all seem to enjoy and go for seconds. And of course the Mangria was flowing as well. The Original Orange, White and Brose.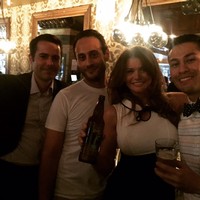 The bar was packed and I'm happy to say a healthy portion of the crowd was there for us. I was blown away and touched to see so many familiar, as well as, new faces this year. Maybe they came for the free booze, or just wanted to show their support or maybe they wanted to meet the fabulous Mrs. Drew Pinsky? Either way, I was grateful we had such a great turnout. One thing I'd like to mention is how delighted I get when I see the same fans that showed up at previous events, greet each other like old friends. Bromances and even real romances bloom at our NYC tastings. I guess now I HAVE to make it a twice a year event right? (Sorry Aceman) In fact, at our first tasting a couple years ago, two fans who just met went on to date. When the gentleman showed up this year I asked him where his beautiful date was that he met the first time around. They no longer are dating but stayed friends. I love that.
As the night was winding down, my pal Suzanne, Mrs. Pinsky and a handful of us all caravanned to a place across town for an impromptu dinner. Thankfully, Suzanne and I paced ourselves so we were in good condition for Springsteen on Thursday!
Once again, I can't thank everyone enough for showing up. We couldn't do it if it wasn't for you guys. Adam and I thank you for all the love and support for our family and our brand. We hope to continue to come up with more ways for you to catch a buzz.
Love, Lynette XO

Comments
Commenting has been turned off.