October 27, 2016 | #MangriaMoments, Events | Lynette Carolla
Portland, I miss you already...
Since I've been traveling more and more, growing the Carolla Drinks brand, it's been a bit challenging on the Carolla household. Adam (with the help of Olga of course) has to hold the fort down, taking kids to football, basketball, halloween fundraisers, not to mention Phil having a case of the stomach flu all hours of the night. Which by the way, as my co-host on For Crying Out Loud Stefanie says, "that's a Tuesday for us moms." However, I was just looking at the great pictures from the Portland Bar Crawl on our Carolla Drinks Facebook page and the word loyal comes to mind.
It started a few nights earlier. Not sure if you've heard but Chris Laxamana and I are big TV stars. Appearing not once but TWICE on the ABC affiliate KATU's AM Northwest Live morning show and later in the day on Afternoon Live. Even though I was nervous it was great to be able to tell my side of the story on what life is like living with the Aceman. I have to give my man props and thank him for all the years of yapping on how improv is done. All the talk of the art of "yes and…" has paid off. Next it was Chris' turn. It gave me chills watching one of our longest-tenure lackey Chris "Maxapada" up on the TV monitor, in front of a studio audience, sing and play acoustic. The whole TV experience for us was not only exciting but satisfying. After a day of TV appearances we blew off steam and went for some sushi and burlesque. Oh don't judge, apparently Portland is the strip club capital of America. Who were we to come to the fine city and not check out some of the happiest places on earth for lackeys? We may be TV stars but we're lackey's first.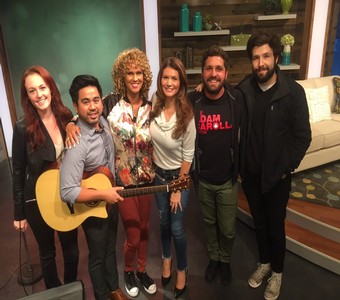 The next night was the bar crawl. Not to sound sappy or corny but it never gets old meeting and spending an evening with the fans of The Adam Carolla Show. This time we had name tags which made it easier to remember everyone like Tina, both Christina's, Cassi and Cody, Matt and Nicole, Eric and his lady friend who was so sweet but name escapes me, Justin, the other Matt, Tommy who looks like Saul Goodman, and the adorable couple Lindsey and her soon to be fiancé Benja-dick (Real name is Benjamin but Ray wrote out his name tag). Some of the Carolla family came out to support as well. Adam's step-sister Hilary, her husband Micky and Adam's niece Carly. (Not blood related though. Yea but still!) We started at the White Owl Social club where we kicked off the evening with a toast of the Betterman cocktail. Then it was off to Loyal Legion where I ordered up freshly baked corn dogs for everyone. Can't have people drinking all night and not get them something to soak up the alcohol. We ended the night at the Spirit of 77 with the Mahalo cocktail. By the way, I made this cocktail on live TV the day before. Did I mention we were on TV?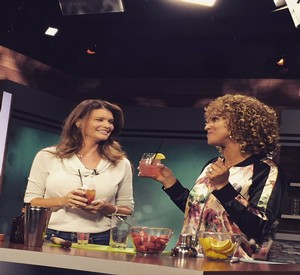 This brings me back to the word loyal. The fine people of Portland have been so LOYAL to us through the years, many not only going back to Adam's morning radio show but dating back to Loveline. Sitting on the bus, facing backwards, watching everyone sing along with Chris as he played Santoria by Sublime on guitar, meeting all the fans that listen to the shows and have supported not just Adam but all that encompass the pirate ship made all the planning, not just for the event but back home with the Carolla household worth it.
Stay tuned to find out all details for our last Bar Crawl of 2016!!
Cheers,
Lynette XO
P.S. A big shout out to our photographer of the night, Samuel Vert! Check out the great moments of the evening he captured for us on our CarollaDrinks Facebook page.
Comments