BLOG

Seattle - well it's about time! I'm going to toot Adam's horn here for a second as well you, the fine folks of Seattle….

I remember when Adam was on his KLSX morning radio show out here in LA and he talked about how great the city of Seattle is. For one thing, it was one of the highest rated markets for his morning show in the West Coast. That was exciting. For another, he said it was polled as the smartest city in the country. Hmm, I'm wondering if the latter begets the former? (Toot toot!) Adam has done many live shows in Seattle. The Moore Theatre is one of his favorite places he's played, hands down. He said he felt like a rock star when he came out on stage. Sharing video with me and the kids shot by Mike August (landscape) as he walked out to a standing ovation. I think Seattle gave a shot of vitamins Adam was missing in life. Not to get sappy but as most know Adam didn't have the best childhood and lacked self esteem. As he became successful it was the fans love and support that filled that deficiency he was missing out of life. And Seattle was there for him from the beginning.

I've never been, always wanted to go. Toyed with the idea of going with him, although I never travel with him for these events. He looks at them as work, gets in and out, back home on the first Southworst flight in the morning. I've had many discussions about visiting Seattle during a girls night, turns out I'm not the only one that's never been and daydreams of going. However, now that our little Carolla Drinks team travels the country, boots on the ground, bringing Bar Crawls to different cities, the stars have aligned!

We're all looking forward to the Seattle Bar Crawl. We've done about 6 of these now and every single one is like a love fest between us, the lackeys and the fans that come out and support. Picture everyone together on the bus, headed to a few bars throughout the night, Maxapada playing acoustic guitar on one bus…Ray arm wrestling on the other. You can't do better than that on a random Saturday night (June 24th!!) in Seattle.
Seattle Crawl is going to be extra special though. We are bringing you guys some really funny, up and coming comedian and musicians to cap off the night of mischeif!

Look out Seattle, the Carolla crew is coming to give you a big old hug and a sloppy Phil lick to thank you for being there from the beginning. See you in June….XO

Since I've been traveling more and more, growing the Carolla Drinks brand, it's been a bit challenging on the Carolla household. Adam (with the help of Olga of course) has to hold the fort down, taking kids to football, basketball, halloween fundraisers, not to mention Phil having a case of the stomach flu all hours of the night. Which by the way, as my co-host on For Crying Out Loud Stefanie says, "that's a Tuesday for us moms." However, I was just looking at the great pictures from the Portland Bar Crawl on our Carolla Drinks Facebook page and the word loyal comes to mind.
It started a few nights earlier. Not sure if you've heard but Chris Laxamana and I are big TV stars. Appearing not once but TWICE on the ABC affiliate KATU's AM Northwest Live morning show and later in the day on Afternoon Live. Even though I was nervous it was great to be able to tell my side of the story on what life is like living with the Aceman. I have to give my man props and thank him for all the years of yapping on how improv is done. All the talk of the art of "yes and…" has paid off. Next it was Chris' turn. It gave me chills watching one of our longest-tenure lackey Chris "Maxapada" up on the TV monitor, in front of a studio audience, sing and play acoustic. The whole TV experience for us was not only exciting but satisfying. After a day of TV appearances we blew off steam and went for some sushi and burlesque. Oh don't judge, apparently Portland is the strip club capital of America. Who were we to come to the fine city and not check out some of the happiest places on earth for lackeys? We may be TV stars but we're lackey's first.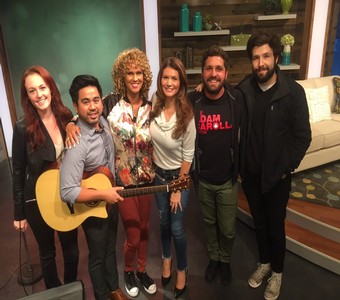 The next night was the bar crawl. Not to sound sappy or corny but it never gets old meeting and spending an evening with the fans of The Adam Carolla Show. This time we had name tags which made it easier to remember everyone like Tina, both Christina's, Cassi and Cody, Matt and Nicole, Eric and his lady friend who was so sweet but name escapes me, Justin, the other Matt, Tommy who looks like Saul Goodman, and the adorable couple Lindsey and her soon to be fiancé Benja-dick (Real name is Benjamin but Ray wrote out his name tag). Some of the Carolla family came out to support as well. Adam's step-sister Hilary, her husband Micky and Adam's niece Carly. (Not blood related though. Yea but still!) We started at the White Owl Social club where we kicked off the evening with a toast of the Betterman cocktail. Then it was off to Loyal Legion where I ordered up freshly baked corn dogs for everyone. Can't have people drinking all night and not get them something to soak up the alcohol. We ended the night at the Spirit of 77 with the Mahalo cocktail. By the way, I made this cocktail on live TV the day before. Did I mention we were on TV?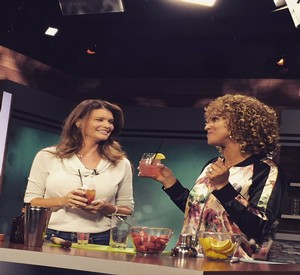 This brings me back to the word loyal. The fine people of Portland have been so LOYAL to us through the years, many not only going back to Adam's morning radio show but dating back to Loveline. Sitting on the bus, facing backwards, watching everyone sing along with Chris as he played Santoria by Sublime on guitar, meeting all the fans that listen to the shows and have supported not just Adam but all that encompass the pirate ship made all the planning, not just for the event but back home with the Carolla household worth it.
Stay tuned to find out all details for our last Bar Crawl of 2016!!
Cheers,
Lynette XO
P.S. A big shout out to our photographer of the night, Samuel Vert! Check out the great moments of the evening he captured for us on our CarollaDrinks Facebook page.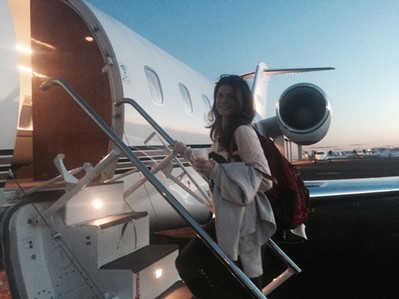 I would like to send out a big heartfelt thank you to all who came out to the Mangria tasting at Park Avenue Tavern New York City on January 26th.
I apologize for sending this out late but as soon as I returned from the trip I was hit HARD by the flu. The sickest I've ever been as an adult. The Tavern was packed and Mangria was flowing. Because of the snowstorm I was a little worried I wouldn't be able to get to the city or the product wouldn't make it either. Well once again, I ended up schlepping a case from LA to NYC. As I packed for the trip I asked Adam if he thought it would be ok if I packed a suitcase on wheels with bottles and cushioned it with t-shirts, hats, give-aways. Easy to carry for me right? Then Adam suggested I only bring half a case, a mix of red, white and Brose. Said in nasally drone, "ah you don't need a whole case, half a case should do it." So I listened to him and thus we were out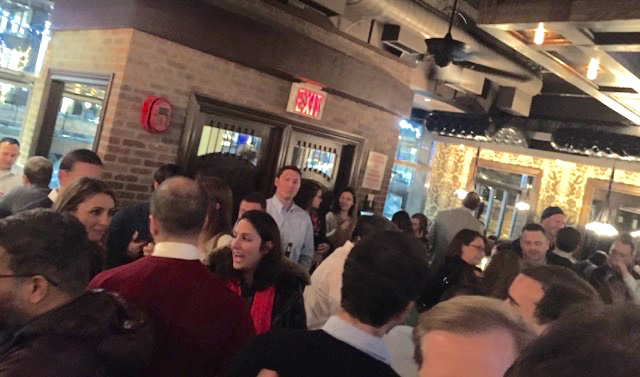 of product in a matter of a little over an hour! I guess he thought it wouldn't be a big turn out since HE wasn't there. Well Ace, you can't be right about everything all of the time.
The always fun and beautiful Mrs Susan Pinsky joined me for the night, mingling and hanging with all our pals that came out to sample Mangria cocktails. I was happy she was came out, it's tough being the only Carolla Lackey at these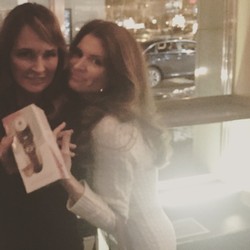 events. There were many people I saw and wanted to say hello to and give a big thanks for coming but couldn't make my way to everyone. I don't think I made it half way around the room. Lots of familiar faces, people who were nice enough to come out in August last time I was there, along with new people. Everyone was super nice, friendly and welcoming. People were enjoying the free Mangria while it lasted (Brose was a hit).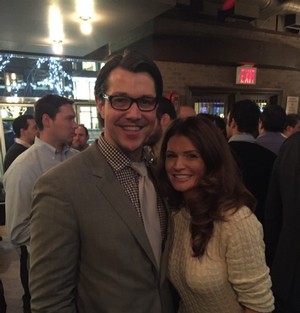 It was a fun night as always. A big thank you for our friends at Park Avenue Tavern in New York City for hosting the Mangria party. Look out NYC, I think a bar crawl is in your future. Don't worry, Adam won't have a say in how much product we bring for that trip. I'll leave that up to the Carolla Lackeys. You're in good hands NYC!

A few thoughts I wanted to share before we close out the year. First off, thanks to everyone that came out to San Francisco. It was a memorable night for us. I had a great time and judging by the looks of the crew (see pics) the morning after, they had a fantabulous time too. We kicked off these crawls on a hot summer night in Hollywood this summer. People had such a great time we decided to do it again in San Diego. Again, another kick ass evening. We ended the year by hitting the open road up the coast to San Francisco and couldn't have asked for a better night to close out the year. It was a magical evening, not just in San Francisco but in all the cities. Mainly because we all were able to get out and bond with the fans.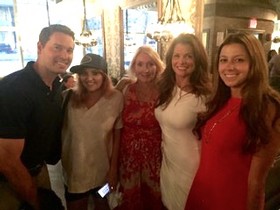 We learned a few things along the way such as name tags with their twitter handle on them are needed big time. We made such great friends during the night but the next morning we all forgot most of everyones names and we're left with pictures of "what's his or her name" on our phones.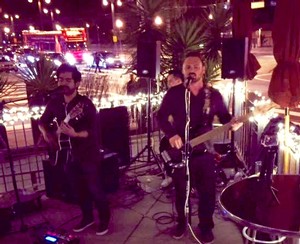 We want you to know all bar crawls, ping pong tournaments, tastings and bottle signings this year have been special to all of us at Carolla Drinks. We've met so many great people, made new friends and hung out with some of you we've met over social media. We can't wait to hit more cities and see what 2016 brings us. Who knows? Maybe 2016 will reunite #Where'sAmy with Intern Nick…#San Francisco.
2016 will bring many surprises and fun events we have planned. From Mangria merchandise, to traveling to different cities with our now famous #MangriaBarCrawls. (Notice I used the hash tag. It's a non-stop machine this social media) to a new line of signature cocktails!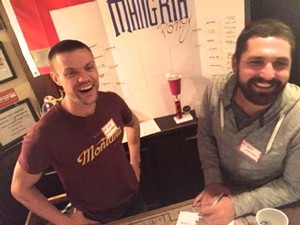 From all of us here at Carolla Drinks we wish you a safe and happy holiday season. We look forward to hitting your town in the new year! Yeah we are…!!
Cheers!
Lynette and the Carolla Drinks Crew - AKA #CarollaLackeys
Special thanks to our Jay Miller, Patrick Hickey and Jay Conway couldn't have done it without you!!

Thanks to all who came and made this bottle signing a huge success. Check out the photos and make sure to share with your family and friends.
Special thanks to Elyon Media for the pictures!
To view the full gallery on Facebook, Click Here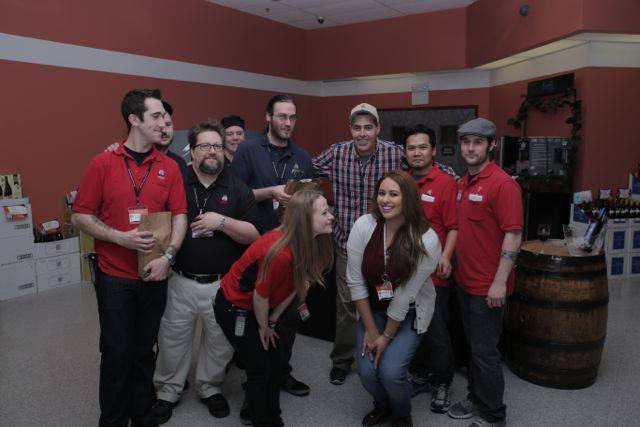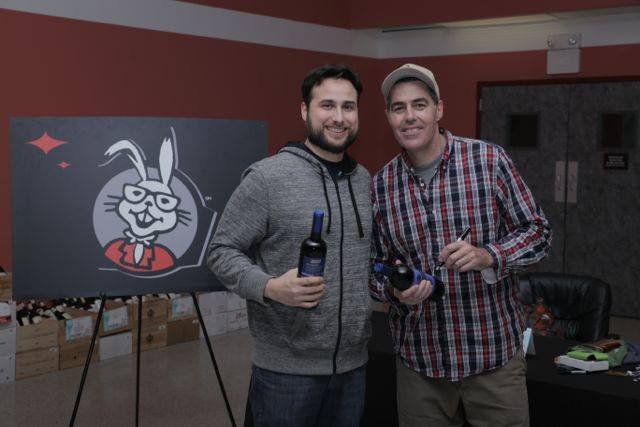 Thanks to everyone who came out to Spec's of Brodie Lane meet and greet. It was a great turnout and a great crowd. Take a look at the pictures taken at the event and share them with your friends and family.
To view the full gallery on Facebook, Click Here!