BLOG

JOIN ME IN NEW YORK CITY ON JANUARY 26TH!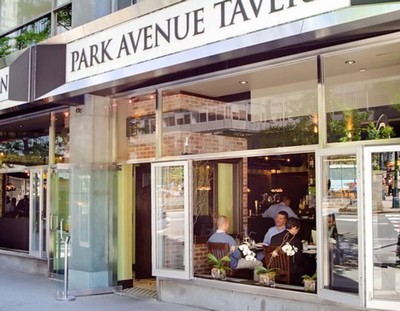 I am getting ready for my New York trip this next week and look forward to meeting up with our friends in New York City on Tuesday, January 26th at the Park Avenue Tavern at 99 Park Avenue New York City from 6:00 - 9:00. I will be having a great time with the bar tenders and mixing up some fun Mangria cocktails.
Come on out for a great time! I would love to meet some of our Mangria fans in New York, so join me. Questions or want to connect? Contact: mangria@adamcarolla.com

A few thoughts I wanted to share before we close out the year. First off, thanks to everyone that came out to San Francisco. It was a memorable night for us. I had a great time and judging by the looks of the crew (see pics) the morning after, they had a fantabulous time too. We kicked off these crawls on a hot summer night in Hollywood this summer. People had such a great time we decided to do it again in San Diego. Again, another kick ass evening. We ended the year by hitting the open road up the coast to San Francisco and couldn't have asked for a better night to close out the year. It was a magical evening, not just in San Francisco but in all the cities. Mainly because we all were able to get out and bond with the fans.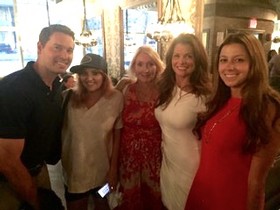 We learned a few things along the way such as name tags with their twitter handle on them are needed big time. We made such great friends during the night but the next morning we all forgot most of everyones names and we're left with pictures of "what's his or her name" on our phones.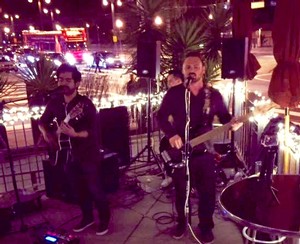 We want you to know all bar crawls, ping pong tournaments, tastings and bottle signings this year have been special to all of us at Carolla Drinks. We've met so many great people, made new friends and hung out with some of you we've met over social media. We can't wait to hit more cities and see what 2016 brings us. Who knows? Maybe 2016 will reunite #Where'sAmy with Intern Nick…#San Francisco.
2016 will bring many surprises and fun events we have planned. From Mangria merchandise, to traveling to different cities with our now famous #MangriaBarCrawls. (Notice I used the hash tag. It's a non-stop machine this social media) to a new line of signature cocktails!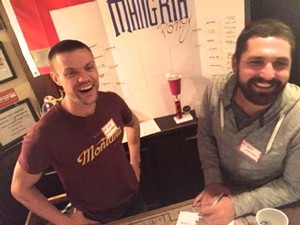 From all of us here at Carolla Drinks we wish you a safe and happy holiday season. We look forward to hitting your town in the new year! Yeah we are…!!
Cheers!
Lynette and the Carolla Drinks Crew - AKA #CarollaLackeys
Special thanks to our Jay Miller, Patrick Hickey and Jay Conway couldn't have done it without you!!

We are all very excited for our next road trip. Well, some of us will be road tripping, others will be flying. Ah San Francisco, the city that Adam and I fell in love. I'll tell you all about it if you join us at the Bar Crawl SF on December 4th.
We'll raise a glass and kick the night off at 6:00 with a Mangria specialty cocktail at MoMo's before boarding the Mangria party bus to our next location. Four bars in one night with the Carolla Digital crew, including, "Wish You Were Gay Jay" (old assistant) new assistant Rob, Intern Nick, Caelen and his stoner pal Brandon, oldest Intern Patrick and a man who needs no introduction…RAY. Plus musical performance by our very own Chris Laxamana.
What are you waiting for? I promise you'll have a great time, if not you can kick Intern Nick in the nuts. What? I'm kidding!! Get your tickets HERE. We're all looking forward to seeing you in beautiful San Francisco! XO Lynette

WHO plays Mangria Pong? For starters, if you have played Beer Pong, good chance you will have a leg up in Mangria Pong. On November 6th at Happy Endings Bar 7038 Sunset Boulevard Hollywood, the question will be "Who doesn't play Mangria Pong?" Join The Adam Carolla Show lackeys and other friends of the show at Happy Endings in Hollywood for our First Annual Mangria Pong Tournament. The event starts at 7:00. Not a Pong Player? We will let you in anyway! Come for the pong, the fun or both!
WHAT is Mangria Pong? It's the brand new game that's sweeping the nation...well, sort of. Mangria Pong is exactly like your traditional game of Beer Pong, only caveat is we use one of our Signature Cocktails made with Mangria. We had a couple of scrimmages using only Mangria and quickly found out that for longevity's sake, a Mangria cocktail made more sense...at least that's what I remember.
WHY play Mangria Pong? For the same reason you sit at your desk and toss crumpled up paper into your trash bin and throw your hands up wildly into the air when it makes it...because we all like throwing things and cheering! Or, because it's going to be a fun filled evening of competition, laughs, and prizes!
HOW to sign up to play? SIGN UP HERE or visit the Events page on Carolladrinks.com and click on the Mangria Pong ad in the calendar. Cost to sign up is $10 + tax. Included in the cost is your first Mangria Cocktail pitcher.
There is going to be a lot of tough competition (my team primarily).
Cheers!
Jay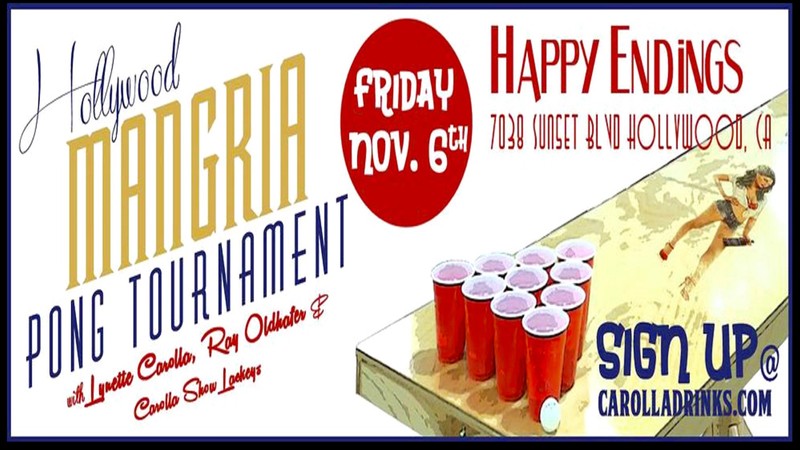 Hello, my name is Jay Miller, a.k.a. "Assistant Jay". I started working for Adam and Lynette in January of 2006. I was referred to them by a friend of theirs who would like to remain nameless. However, I can tell you his initials are J. Kimmel, or Jimmy K. My job title was "house boy" and my days were riddled with dog walks, and grocery store trips. After a year I graduated to Assistant. I went to work full time with Adam at KLSX radio station here in Los Angeles, and stayed with Adam when he transitioned to podcasting. In fact, I was part of the rag tag crew that built out his podcast studio where he currently does all the shows.
In early 2012 I took a hiatus from Assistant work. In September of the same year Lynette reached out to me to see if I was interested in coming back to work with them in a different capacity, one that was geared towards building their new alcohol brand called "Mangria." So here we are.
My role since then has not really changed, per se, however it has definitely broadened. I came on as a part-time sales representative geared towards reaching out to venues that Adam would be playing while on the road. We needed Mangria to reach his fans and it was my job to make sure it was available. I joined full-time in January of 2013 and have been working to bring Mangria to bars and stores nationally. This year has seen the advent of our newest marketing endeavor, the Mangria Bar Crawls.
For those unaware of what the Mangria Bar Crawls are, they are a party on wheels to put it plainly. We select four bars in a participating city that would like our group of party goers to come to their fine establishments and enjoy different signature Mangria cocktails for an hour. We provide those in attendance with travel from each participating bar, either by Double Decker bus, or by charter. Drink and food specials are provided by each location for those in our group. We arrange it so that the first location acts as a check-in/music venue. Chris Laxamana, a.k.a. Maxipada provides musical entertainment while folks sign in. Bar Crawl paraphernalia is available for those that want to gear up. Right before we take the show on the road a Mangria toast is made with a complimentary Mangria shot for all those that came out.
August 1st marked our second MBC this year and we had our sites on the lovely city of San Diego. We couldn't have asked for a better day. It was a beautiful Saturday afternoon/evening without a cloud in the sky. With Adam's tremendous help of advertising to the podcast listeners we were able to sell out the event at 110 attendees.
Stop #1 - Everyone met at 5:30 at Bridges Bar and Grill where Chris and his 3 piece band kicked off the night on the outdoor patio. Bridges was pouring our specialty cocktail, "The Better Man", and provided all with a great happy hour menu for food. This is the point of the night when anxiety is a little high because you want to make sure everyone gets in and gets their complimentary shot without any hiccups. Once everybody was checked in and got their bar crawl gear (if interested in a bar crawl tshirt let us know) things started to move a little easier. Lynette and Producer Gary gave thanks and raised everyone's glasses for the Mangria toast and the charter busses took us to Rosie O'Grady's.
Stop #2 - Rosie's staff could not have been nicer or more prepared. They had $7 all you can eat taco's for our crawlers. Let me digress for just a second...Now I don't know if it was the Mangria shot, the sun, the stress of keeping this event running smoothly, but those tacos were little pieces of heaven. The meats were cooked perfectly and the topics were so fresh. It was good they were all you could eat, or maybe it wasn't for them?? I know I ate my weight in tacos in that hour we were there. Rosie's had great drink specials as well. People were getting fired up. The signature cocktail they chose was "Girls on Trampolines". It was a very light and refreshing summertime cocktail that had both the ladies and the men asking for another round. Before we knew it it was time to rally to troops and head to Pal Joey's
Stop #3 - Pal Joey's was the perfect third stop and this venue is part music venue part billiard hall. Folks were starting to let their hair down and mingle and Pal Joeys' allowed for a lot space for people to tell stories and have a laugh. Pal Joey's did not serve food, but that was ok seeing as how most had just devoured the tacos. They carried the "CosBROpolitan" (recipe to come). The band started right after we got there and there were some of our group out there trying to do their best to cut a rug. Before we knew it the hour was up and we were loading up to head to Junk House.
Stop #4 - Junk House was a newly renovated location right near San Diego State University. They, like all the bars, were more than welcoming when we arrived. They had an entire section of their bar dedicated to our party and gave us a personal bartender. The cocktail of choice was the "Mahalo". At this point in the night all stress had been forgotten and there was only camaraderie between old friends and new ones made during the night.

I can't thank all those that came out to the event enough. It was the fans of the Adam Carolla Show that made it a success. I hope that we can keep the momentum going and take the MBC's to more cities. Rumors are that there may be an east coast crawl in the near future.
Thanks, until next time!
Jay


You asked for it, we delivered.....
SUMMER STOCK UP SALE! Stock up on your favorite Mangria for summer parties and events. Mix and match your favorite case and SAVE.
$15 off any mixed case with PROMO CODE: SUMMER15
$35 off any mixed two cases with PROMO CODE: SUMMER35
$55 off any mixed three cases with PROMO CODE: SUMMER55

Hurry! OFFER ENDS AUGUST 15TH

Mandate: Two day extravaganza at the Hard Rock Hotel and Casino
Adam, Bald Bryan and Gina performed 2 nights in July so we put on our new Mangria trucker thinking caps and started planning the big July weekend. Myself along with about 7 guys and one hot blond gathered at the Hard Rock to throw the best pool party ever. Now for those that don't know, Adam's old assistant Jay who is like my son that left for college is now our sales manager for Mangria. With his years of working at a bar in Manhattan Beach coupled with his law school degree, he and I have partnered up to start bringing more and more of these live Mangria events to the public and it's been a blast working with him. It started off on the Thursday night before the big weekend. Jay and I with five other Carolla Digital staff loaded up a couple trucks with banners, t-shirts, hats and more.
We yapped the whole way down and even hit a liquor store on the way out of town and low and behold there it was in the cooler section. Mangria. The guy behind the counter said lots of people come in asking for it and that it's been a big seller.
For two days, July 10th and 11th, Mangria had a strong presence at Rehab, which is the Hard Rock's name for their pool. Our cabana was front and center.
Day 1- Friday we set up our banners including an approximate 5 foot wide by 6 foot tall "step and repeat" as they call it in the business of show. People LOVE having their picture taken in front of a step and repeat, especially drunk people. Our sales girl Jocelyn, who did a fantabulous job, wrangled some of the men as well as the ladies in front of the step and repeat (see the "Don't Get Left Behind" picture in my Instagram feed). All gathering to take pictures and try our Red, White and Brose. New and old fans of Mangria came by to try one of Hard Rock's Mangria speciality cocktails. And as Adam would say, "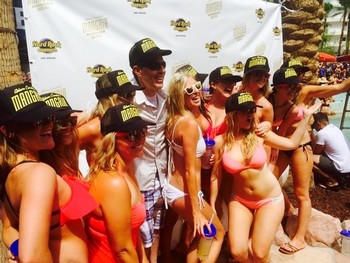 Can I just say this…" Adam's fans have such great spirit, even when they're buzzing hard on Mangria. The Adam Carolla audience has always been so supportive and I feel the love when we do these live events.​
It makes all the hard work worth it. At the end of the day we packed it up and got ready for the two shows at Club Vinyl that night. Which by the way, since I was feeling pretty good about myself with the first day behind me, I proceeded to video tape behind the scenes at Club Vinyl pre-showtime. Hanging out listening to Van Halen's Fair Warning, playing air drums and watching Dawson get ready for that nights show. Insert drop: DUDE. Check out my Instagram feed for my shameless videos.
Day 2 -Saturday was an even bigger turn out. Speaking of turn out, it turned out The Hard Rock hosted a bikini contest on that same Saturday. Imagine that. I felt so sorry for our guys, having to sit there all day watching these flawless babes walking by in their bikinis. And oh poor Aceman! He was invaded by beautiful women in our cabana. You should have seen Mike August, his head was on a swivel. I was proud of my husband I have to say. Usually that's not his scene, loud techno music, drunken people, hot sun. But are you sitting down? He did NOT complain once. Honestly. He was a trooper and actually enjoyed himself. We had a visit from local radio station KOMP-FM's Brittany Cason, she was a doll and the lead singer of Third Eye Blind…what's his name. You know the guy that cheated on Charlize Theron, yeah him.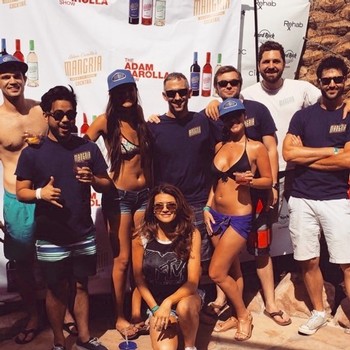 We gave away tons of cool swag, hats, tee shirts. We had pitchers of Mangria cocktails flowing, music pumping and lots of bodies. The weekend was a success and I have to THANK our tireless, hardworking crew. Jay, Patrick, Rob, Jocelyn, Producer Gary, Laxamana, Caelan and his stoner pal Brandon, Intern Nick, previous Intern Lauren and white Kevin Hart. You guys are the salt of the earth and thanks for a kick ass weekend. It reminded me of my early 20's, young, barely dressed men and women "getting wasted in the heat." (That's a Springsteen lyric by the way.) A nod to my Springsteen pal Steven at the Hard Rock who took care of all our needs, sending him a big Thank You!! And to Ron our Main Man poolside! (See selfie with bearded, scary looking tattooed man who is the nicest, kindest gentleman) Thanks for taking care of all of us rookies from Mangria!! You guys truly ROCK! See you one last time before the pool closes for the summer.

MANGRIA NOW AVAILABLE IN CANADA!
Mangria is now on sale in Ontario, Canada! Your order needs to be placed by email or phone at: sales@majesticwine.ca or call (905) 851-2618. Mahalo!

The Carolla Drinks Team welcomes our new Brand Ambassador Group! 15 super fans throughout the nation have been hand selected to represent Carolla Drinks socially. This group is made up of Mangria customers who have been active in social media for the past year and who love to share their Carolla Drinks stories. We held a Kick Off call this past week to get to welcome our members and introduce members from the Carolla Drinks Team. It was great meeting the group and learning more about some of our Mangria fans.
So WHAT IS A BRAND AMBASSADOR you ask?
A Brand Ambassador is a social advocate and 'super fan' that enjoys sharing their experiences with the Carolla Drinks brand. Each Brand Ambassador is a positive spokesperson and opinion leader regarding our products, news, events and customer service.
The Carolla Drinks team cares about our customers and can now stay even more connected to our super fans through a monthly ambassador meeting held online, in person events and social media.
Today, we introduce two of our Brand Ambassadors, Jack and Keith!
Meet Jack T.
I live in Jupiter Florida (insert Florida joke here) with my wife Katherine and our two dogs. We have a twenty-year-old son who is in the Navy. I was in the Navy for ten years, which is where I received my training as an air traffic controller. I currently work at Pam Beach International. I enjoy fishing both salt water and fresh water. Since moving to Florida I have been trying to learn to surf. Katherine and I both enjoy Mangria and Brose is probably our favorite. I do enjoy the original as well and usually put a little shot of Jack Daniels in mine. We usually drink Mangria while grilling or just relaxing and watching some TV.
Meet Keith J.

I live in Kalona, IA (about 20 miles south of Iowa City, IA). Kalona is considered an Amish community with many Amish and Mennonite families around. You cannot buy Mangria in Iowa, so I either have to pick some up during my travels to upstate NY, Michigan, or Chicago. I have also shipped from Binny's or BevMo and more recently through the online Carolla Drinks web store since that is an option now for shipping to Iowa. I am a Research Assistant Professor at the University of Iowa (I study herpesviruses in the Carver College of Medicine). I like to play hockey, exercise, bike, garden and travel. My favorite Mangria flavor is Original Orange, but Brose is a close second. I drink Mangria on ice, usually crushed ice, which makes me drink it slower because I like to chew the ice. I get wasted to fast if I drink it straight up.

Here at Carolla Drinks, our goal is to keep you up to date with new and exciting announcements. This summer we are excited to bring you the launch of several projects we are thrilled about. As many of you know, our Carolla Drinks Cocktail Club launched recently and happy club members are enjoying their Mangria and exclusive perks across the country. Club Members, don't forget, we want to see you enjoying your delivery so make sure to use Hashtag #MangriaClub when sharing a picture of how you enjoy Mangria on social media.
Last month the Mangria Crew was at the Hard Rock Hotel & Casino enjoying a Mangria pool party at Rehab Las Vegas. Lynette and New England Patriots star Rob Gronkowski took the stage to share a birthday toast and a shot of Mangria. The sun was shining, the people were dancing and Mangria was flowing all over as we celebrated the start of summer. Sorry you missed the fun? Well... we'll be back in July for more Vegas fun. Join us July 10 & 11 for special contests, giveaways and more. Hang by the pool with the Mangria Crew all day and enjoy live podcasts from the Ace Man both nights at The Hard Rock. You don't want to miss this! Find tickets and information at AdamCarolla.com.
Also coming to Carolla Drinks is our new Brand Ambassador program. A handful of lucky fans around the nation will be invited to help spread the good news about Carolla Drinks and keep the Pirate Ship afloat. These ambassadors are super fans with extensive brand loyalty and all around awesome people. Stay tuned for more from our Brand Ambassador program.
Other things coming this summer include special discounts, NEW cocktail releases, bar crawls and more!
Stay in touch with us and keep showing us how you enjoy your #Mangria.
Facebook www.facebook.com/Mangria
Twitter @Mangria
Instagram @Carolla_Drinks
Our sales team is working hard to bring Mangria to a store near you. Email us for inquires:
info@carolladrinks.com
#MANGRIA
Great photo sent from one of our
Carolla Drinks Club members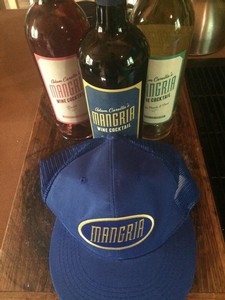 Lynette & friends having fun at our Mangria Monday
event at The Oaks Tavern in Sherman Oaks, CA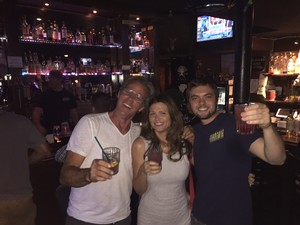 Rob Gronkowski and Lynette Carolla celebrating
Mangria at the Hard Rock Hotel & Casino pool party